Manchester United boss Ole Gunnar Solskjaer hasrevealed that he wants Edinson Cavani to stay beyond this season amidst the transfer rumours linking him with a move away from the Old Trafford outfit.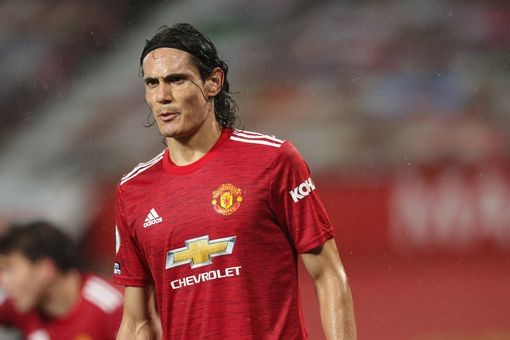 Solskjaer talked about Cavani in his pre-match press conference ahead of the first leg of the Europa League last 16 tie with AC Milan. According to him, EdinsonCavani is focused on getting himself fit and that he is committed to the club. The future of EdinsonCavani at Manchester United is a topic of discussion in the media after the recent interview from his father Luis Cavani.
Cavani Sr. disclosed that his son is not happy at Old Trafford and that it is 60% sure that the Uruguayan international striker will leave Manchester United in the summer when his current contract ends. He also mentioned Boca Juniors in the Argentine top flight as possible destination for EdinsonCavani. Cavani signed a free transfer deal at the start of the season following the expiration of his PSG contract at the end of the last campaign.
Edinson Cavani is highly regarded on the European football and this was recently highlighted by Liverpool legend Michael Owen. Michael Owen has been on Premier League TV to rave about Cavani and his runs behind the defence. According to former Manchester United and Liverpool striker Michael Owen, Cavani is the best finisher at Manchester United at the moment. The Uruguayan is the most natural goalscorer at Old Trafford as per the opinion of Michael Owen. He also rates Cavani as one of the best finishers in the game at the moment. It is safe to say that Michael Owen is a big fan of Cavani.
Cavani signed a one-year deal for the club when he joined the Red Devils at the start of the season with the option of an additional year for the Uruguayan international. EdinsonCavani and Manchester United will have to agree for the club to activate the option of an extra year. Cavani has scored seven goals in 25 appearances for the Red Devils this season and he was absent for the recent win over Manchester City due to a slight injury. The Uruguayan striker missed that Manchester Derby clash on Sunday evening due to injury and his place in the starting XI was taken by Anthony Martial. Martial had a hand in the first goal as he was brought down for the penalty scoredby Manchester United midfielder Bruno Fernandes inside two minutes. Left-back Luke Shaw added the second Manchester United goal on 49 minutes to wrap up the 2-0 win over the Citizens.